London Organizations Lead the Way in Trauma- and Violence-Informed, Equity-Oriented Services
This is Part 2 of our 4-part series, which explores the key dimensions of equity-oriented care (EOC) and how this can be supported by EQUIP's Equity Action Kit. We examine how organizations in London have started taking up EOC.
In Part 1 we featured the EQUIP Pathways Project, featuring the EQUIP Equity Action Kit, and supports for better care for people facing substance stigma, which was developed with key input from the London InterCommunity Health Centre based on their expertise delivering Emergency Safer Supply.
The key dimensions of the Equity Action Kit aim to:
Reduce substance use stigma in health and social services
Promote Trauma and Violence and Informed Care
Ensure cultural safety and reduce racism and discrimination in health and social service settings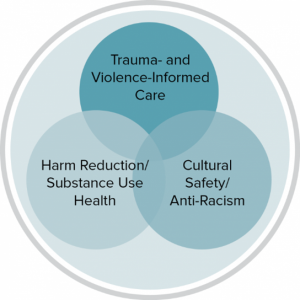 The Equity Action Kit consists of the following resources:
Free e-learning modules describe equity-oriented care and guides providers during implementation at practice and policy levels
Planning tools, report cards and evaluation strategies
Resources and tools to address substance use stigma and reduce racism, especially towards Indigenous people
Why Equity-Oriented Care
Equity Action Kit Road Map
The Equity Action Kit makes reaching for health equity simpler by laying out a roadmap of action steps based on implementation science and organizational change principles.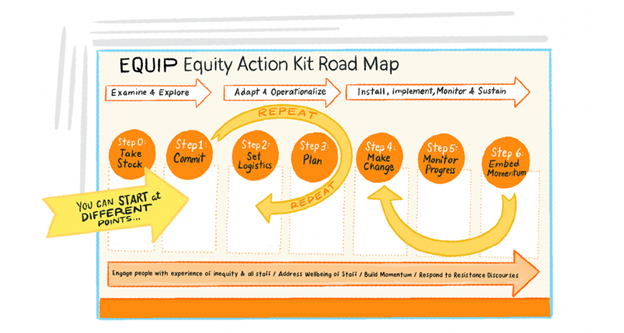 Steps 0 to 6 of the Road Map are iterative and adaptable to the needs and priorities of different organizations. The steps help organizational leaders and staff:
assess their needs and context to tailor tools and strategies accordingly
build momentum, assess success, and embed accountability
anticipate and confront barriers, resistance and pushback
continuously evaluate how to improve services and support equity outcomes
Are you ready to get started with the Equity Action Kit?
Step Zero in the Equity Action Kit asks you to critically assess your organization before you take action.
It is necessary to look through an equity lens to understand the point from which you are starting this journey.
Organizations can ask: "What are the areas for growth? What are the problems to be solved? What does "success" (broadly defined) look like?"
The Guiding Questions of Step Zero are:
What are the inequities of concern in your setting? What are the barriers to, and resources for achieving greater equity?
What are the motivations driving you and others toward equity?
Where are you 'at' on each of the Key Dimensions?
To support discussions, EQUIP has created useful tools in the Rate your Organization Worksheets. These collaborative worksheets get organizations thinking about the Guiding Questions of Step Zero, with a focus on each of the 3 key dimensions of the Equity Action Kit.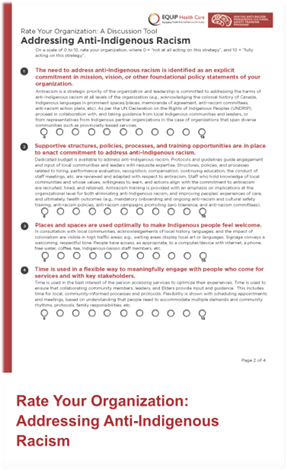 Discussion tools can be found by clicking here.
London, Ontario: Taking a Lead on Equity-Oriented Care
Several London organizations have taken up TVIC and health equity to better serve those who experience barriers to care. The work came together through the Gender, Trauma & Violence Knowledge Incubator, a collective of community leaders and academic researchers from Western with an interest in TVIC policy, practice and research.
Supported by the collective knowledge of EQUIP Pathways partners and Incubator members, the TVIC Foundations Curriculum was developed. Look for this in the soon-to be-released book Implementing Trauma- and Violence-Informed Care: A Handbook for Diverse Service Contexts (University of Toronto Press).
For more information on projects please visit the GTV Incubator click this link.
Written by Samantha Campanella, Hooria Haider, and Christine Garinger
This series was developed by Samantha Campanella and Hooria Haider, Western University, Health Sciences Students, Community Engaged Learning placement with CRHESI.
NEXT in the Series – Equity in Action: London InterCommunity Health Centre