set a common understanding about critical issues, such as trust, dignity and respect, in collecting and using equity-sensitive data, including race-based data
articulate and frame why, how and for/with whom we might collect & use these data
generate momentum for collective action by creating opportunities for parallel conversations, consultation and synergy
identify lines of action and collective resources to move the work forward 
Below are videos of our four presenters.
Sukhveer (Sukhi) Bains, an emergency medicine physician at London Health Sciences Centre and a CRHESI Executive Committee member, centred her talk on the importance of raising awareness when collecting equity-oriented data. Since race is a social construct, not a biological trait, she discussed the that ways race-based data in particular have been weaponized by those in power to (re)marginalize communities. Sukhi emphasized the need to look structurally and historically and advised us to acknowledge that we cannot discuss socio-demographic data without an analysis of power.
Mojdeh Cox, CEO of Pillar Nonprofit Network, asked us to reflect on the intentions behind collecting data if we aim to build trust and strive for mutual benefit in such activities. In prioritizing the purpose of data collection, Mojdeh emphasized we must understand where we have been to know where we are going. "How do we collect our audacity first?", she implored, when historical injustices against Indigenous peoples have yet to be reconciled. Mojdeh appealed for "radical accountability" when embedding the components of sustainable justice, equity, diversity and inclusion in any data collection and analysis project. Asking people to reveal themselves is inherently intimate, Mojdeh stressed the need for transparent, trauma-informed approaches.
Greta Bauer, Professor at Western University, presented a research exemplar on how to prioritize community knowledge when gathering data from structurally marginalized populations.  The framework of Trans PULSE Canada, a research project focused on the health and well-being of trans and non-binary people, includes strategies that prioritize the interests and concerns of nine unique intersectional populations within trans and non-binary groups who also identify as, for example, differently abled, Indigenous, racialized, young, etc. Using a participatory approach balances power (where possible) and engages research participants in knowledge creation, including survey co-development and mobilizing research results in tailored-to-audience ways, while prioritizing their experiences as community knowledge. 
Summary pdf document below
Alison Locker, an epidemiologist with Middlesex-London Health Unit, showed us how surveillance data can be moved into action through a brief review of the HIV crisis in London from 2005-2015. Surveillance data helped public health experts to see and better understand evolving risk profiles. Local risk factor changes were found to be related to the increased proportion of people who inject drugs and this drove public health experts and community partners to tailor interventions (e.g. increased point of care testing, new and increased harm reduction initiatives) through sustained and collaborative efforts, with positive results on subsequent HIV infection rates.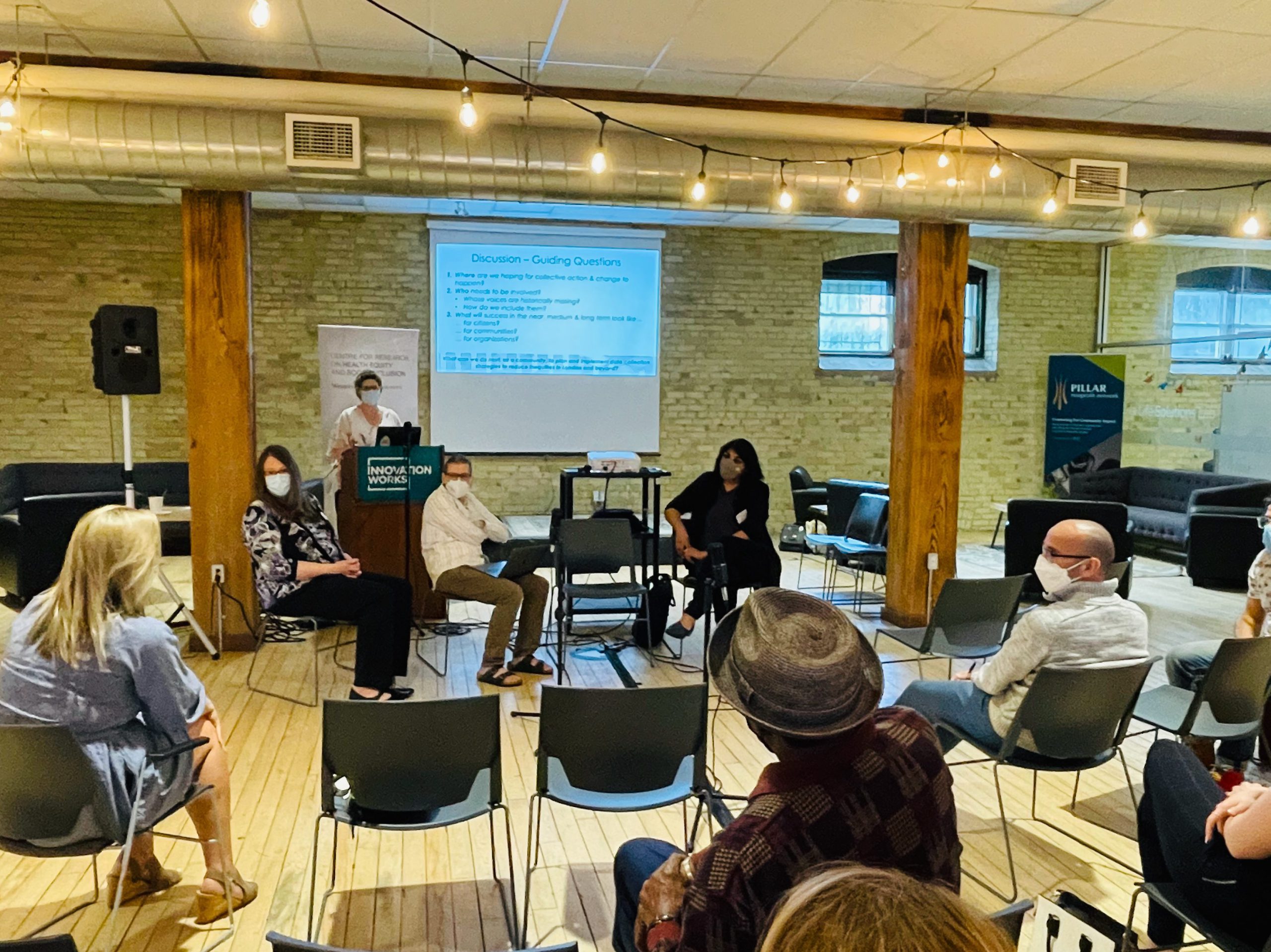 We thank the event organizing committee: Heather Lokko, Sukhi Bains, Dan Lizotte, Arun Jentrick, Christine Garinger, James Shelley and the speakers & facilitators: Sukhi Bains, Greta Bauer, Mojdeh Cox, Alison Locker, Dan Lizotte, Christine Garinger, Jennifer Martino, Abe Oudshoorn, Nadine Wathen.