Today, we would like to draw your attention to an important initiative that has the potential to make a significant impact on the lives of children with Autism in our community. Thames Valley Children's Centre (TVCC) is actively seeking your expertise and experience to help shape the future of integrated Autism services in the southwest region.
Why Your Input Matters
Children with Autism and their families often require specialized support and services. Your unique insights, experiences, and perspectives are invaluable in ensuring that these services are effective, accessible, and comprehensive. By participating, you can help bridge gaps in services, improve coordination, and create a more supportive environment for children with Autism and their families.
Ways to Contribute
There are two main ways you can get involved:
Fill Out the Survey: TVCC has created a brief survey to help map the existing services and identify gaps in our community. Your input will be a crucial component in this process. Please take a few moments to fill out the survey by visiting this link.
Join Upcoming Meetings: TVCC is hosting two events to encourage collaboration and networking among professionals and stakeholders. The virtual meeting on October 27th and the in-person event on November 3rd offer a platform to discuss available offerings, gaps, and better ways to coordinate services for clients with Autism and their families. For registration details, please see the attached invitation.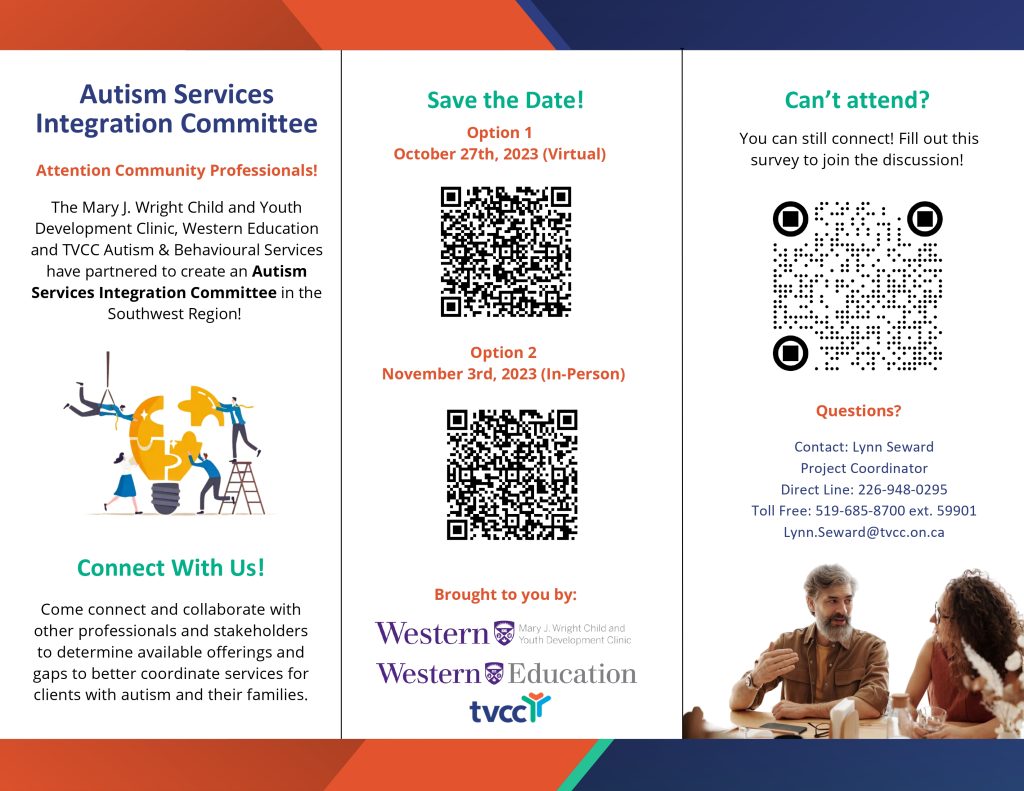 TVCC is committed to providing ongoing opportunities for the community to connect, learn, and share. In the coming months, they will be offering more workshops and avenues for involvement. If you are unable to attend the events but would like to stay connected, please reach out to Lynn Seward, the Project Coordinator for Autism & Behavioural Services, at Lynn.Seward@tvcc.on.ca or call 519.685.870