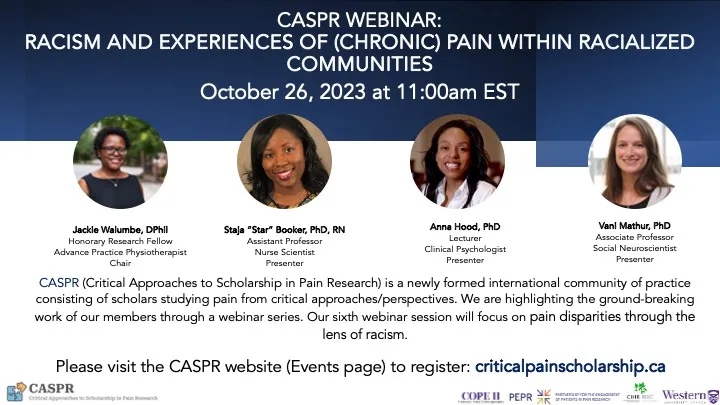 In a world where chronic pain affects millions, the critical examination of pain research is an essential pursuit. On October 26, 2023, CASPR (Critical Approaches to Scholarship in Pain Research) invites you to delve into the crucial conversation on racism and its impact on experiences of (chronic) pain within racialized communities.
Chaired by Dr. Jackie Walumbe, this webinar will feature thought-provoking presentations by esteemed scholars Dr. Staja "Star" Booker, Dr. Anna Hood, and Dr. Vani Mathur. Together, they will explore the prevalence of racism in the conceptualizations and approaches to chronic pain, a topic that often goes unexamined.
CASPR is a collective of international social science scholars, including sociologists, anthropologists, and social workers, whose work focuses on chronic pain and issues of social justice. This multidisciplinary approach seeks to address the often-neglected social justice dimensions of chronic pain research.
Join us on October 26th at 11:00 AM EST to be a part of this critical discussion. To register for the webinar, please visit this link: Webinar Registration
Don't miss out on this opportunity to gain insights, engage in dialogue, and contribute to the ongoing exploration of chronic pain research and its societal impact. CASPR's webinar series is fostering collaboration among international scholars to better understand and address the social justice dimensions of chronic pain research. We look forward to your participation in this important conversation.