The Global Health Equity @ Western hub team would like to invite you to create a Blog on the topic of RACIAL JUSTICE AND GLOBAL HEALTH.
Racial Justice is the systematic fair treatment of people of all races, resulting inequitable opportunities and outcomes for all. Unfortunately, due to racial injustice, many inequities arise and marginalized populations do not have access to the same resources as others making them more vulnerable to negative health outcomes. These include higher chronic disease risk (diabetes & cardiovascular disease), reduced health seeking, higher levels of unhappiness, loneliness, and depression. BInequities for racialized populations in access to health and care have been further underlined during the COVID-19 pandemic, exemplified by inequities in COVID-19 morbidity, mortality and vaccine distribution.
The Global Health Equity @ Western hub goal is to instigate discussion beyond calls for equity, trans-national solidarity and responsibility, to identify actionable interventions and shifts in thinking that can advance racial justice as it pertains to health.
For this year's Power & Global Health Day with its theme of Racial Justice, you may consider producing a blog about (for example, but not limited to)…
Lived experiences of racial (in)justice
Indigenous Health
Community-based healing and advocacy
Access to Healthcare
Environmental Racism
Microaggressions
Gender inequities
Gender Rights and Health
Culture and Migration Experiences and Policies
Submissions are welcome from the entire Western community as well as external community members. Current students' Blogs will be submitted to a panel composed of students, faculty, and community representatives, with the most compelling 5 submissions awarded a prize of $100 and featured on the Global Health Equity HUB @Western University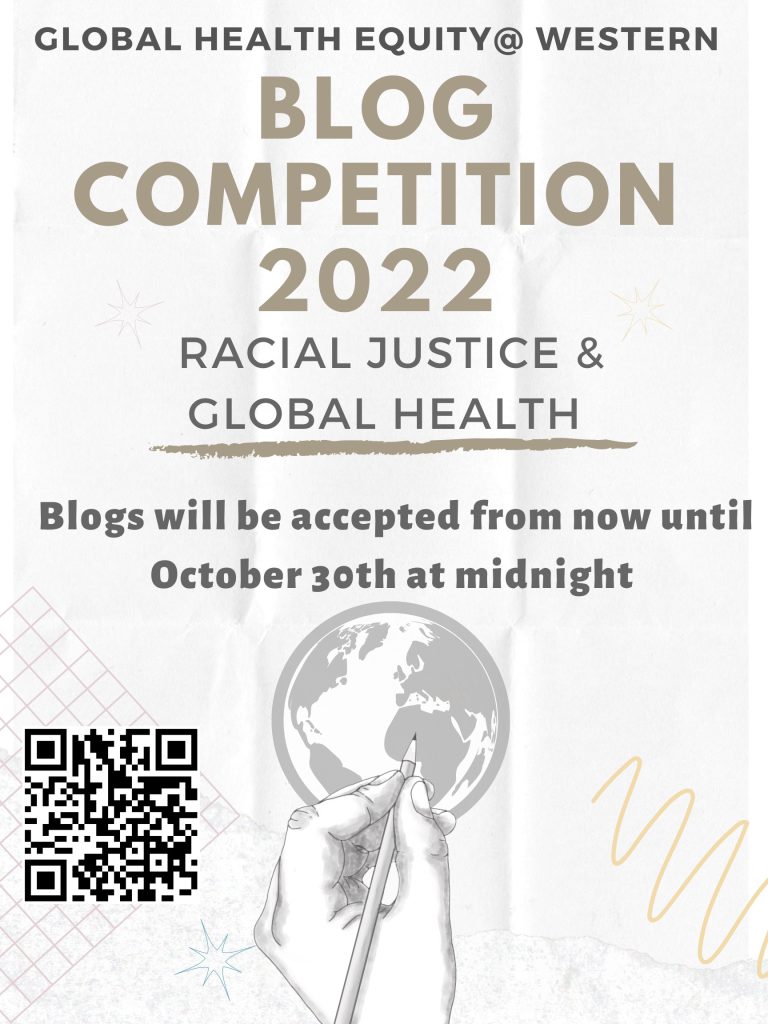 You do not need to be a current member of the Western community to submit. We want to hear from you! All Blogs meeting submission criteria will be featured on Western's Global Health Equity website.
Blogs will be accepted from now until October 30th at midnight. Winning student submissions will be announced on Thursday November 24th, 2022, at Power & Global Health Day.
Blogs should not exceed 1500 words and should align with the general blog guidelines for the GHE hub which can be found here.
Please send your submission here
The Global Health Equity @ Western hub looks forward to hearing from our community and holding these important conversations. Please also join at Power and Global Health Day on Thursday, November 24th, 2022