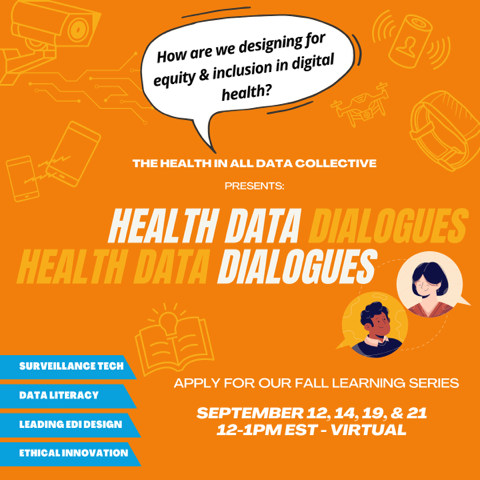 Health Data Dialogues – Equity & Inclusion in Digital Health
4 one-hour virutal sessions through September 2022
Cost: Free
Who: Individuals working across the health sector, including designers, developers, health care management, clinicians, policymakers, and health tech innovators.
Objectives: To support leaders to steward ongoing reflection on equitable and ethical data use within and among their respective organizations and sectors.
Application Deadline: August 30th, 2022
Learn more and apply here: https://healthinalldata.com/event/health-data-dialogues-learning-series/
(Application takes less than 10 minutes!)
Learning Series Team: A group of interdisciplinary researchers from Western University in Canada and funded by the Social Sciences and Humanities Research Council.
For additional information contact Dr. Lorie Donelle, PhD, Arthur Labatt Family Chair in Nursing Research at ldonelle@uwo.ca