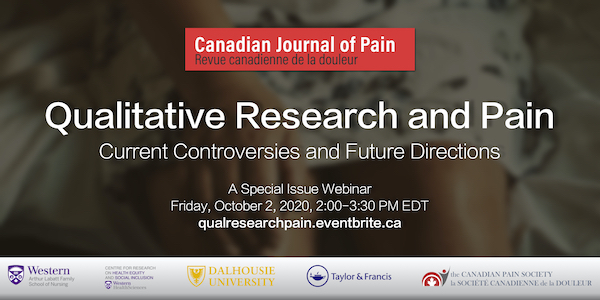 Friday, October 2, 2020
2:00 PM – 3:30 PM EDT
qualresearchpain.eventbrite.ca
In this webinar, co-guest editors Dr. Fiona Webster (Associate Professor, Arthur Labatt Family School of Nursing, Western University) and Perri Tutelman (Clinical Psychology PhD Candidate, Dalhousie University) present the Canadian Journal of Pain Special Issue on Qualitative Research and Pain. The session will provide an overview of the contributions that qualitative methods can offer to pain research and will address three common controversies regarding qualitative research quality. Selected authors will present a sampling of studies published in the Special Issue that demonstrate novel theoretical and methodological advancements in the field.
PRESENTERS
Dr. Craig Dale (Assistant Professor at the Lawrence S. Bloomberg Faculty of Nursing, University of Toronto)
Dr. Nida Mustafa (Recent PhD graduate from the Social and Behavioural Health Sciences program, Dalla Lana School of Public Health, University of Toronto)
Dr. Sheila O'Keefe-McCarthy (Associate Professor in the Faculty of Applied Health Sciences, Department of Nursing, Brock University)
Dr. Francine Toye (Oxford University Hospitals NHS Foundation Trust)
Joletta Belton (Writer at MyCuppaJo.com and co-founder of the Endless Possibilities Initiative)
Please register for this live, online webinar at qualresearchpain.eventbrite.ca