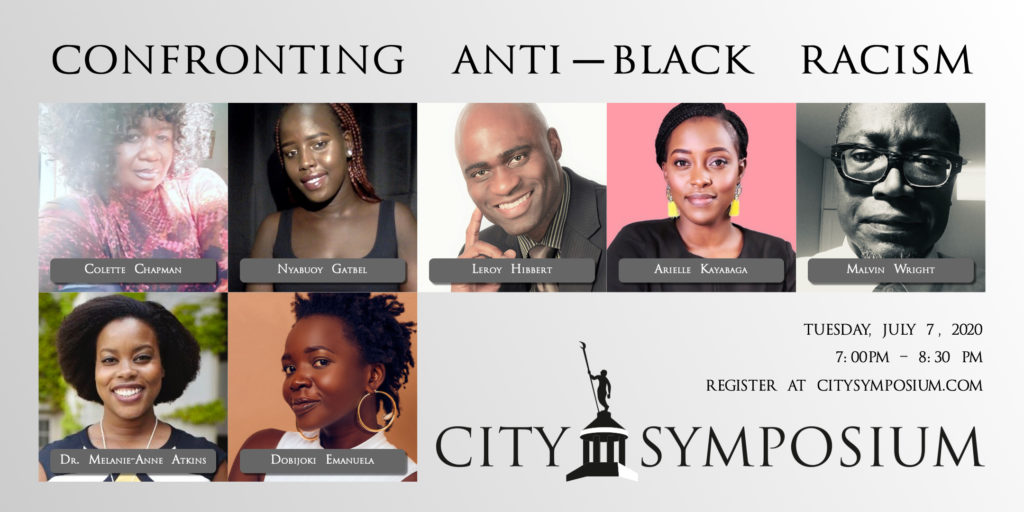 Let's explore concrete ways that we — individually and collectively — can acknowledge and dismantle our roles in the perpetuation of racism.
On July 7, 2020, 7:00 PM – 8:30 PM, Dr. Melanie-Anne Atkins and Dobijoki Emanuela will host a live City Symposium discussion with Colette Chapman, Nyabuoy Gatbel, Leroy Hibbert, Arielle Kayabaga, and Malvin Wright about confronting anti-Black racism. "We will explore how silence, privilege, microaggressions, and unconscious bias continue to enable anti-Black racism in our institutions and communities." Full bios for all the panelists and facilitators are available on the City Symposium website.
Please register for the event via Eventbrite.
The City Symposium series is made possible through a city-wide collaboration including the Centre for Research on Health Equity and Social Inclusion, Urban League of London, London Community Foundation, Polishuk Camman & Steele, London Public Library, Aeolian Hall, Grand Theatre, Museum London, Western's Faculty of Information & Media Studies, Western's Faculty of Health Sciences, London Arts Council, Pillar Nonprofit Network, Fanshawe Student Union, Western University Student's Council, and the City of London.